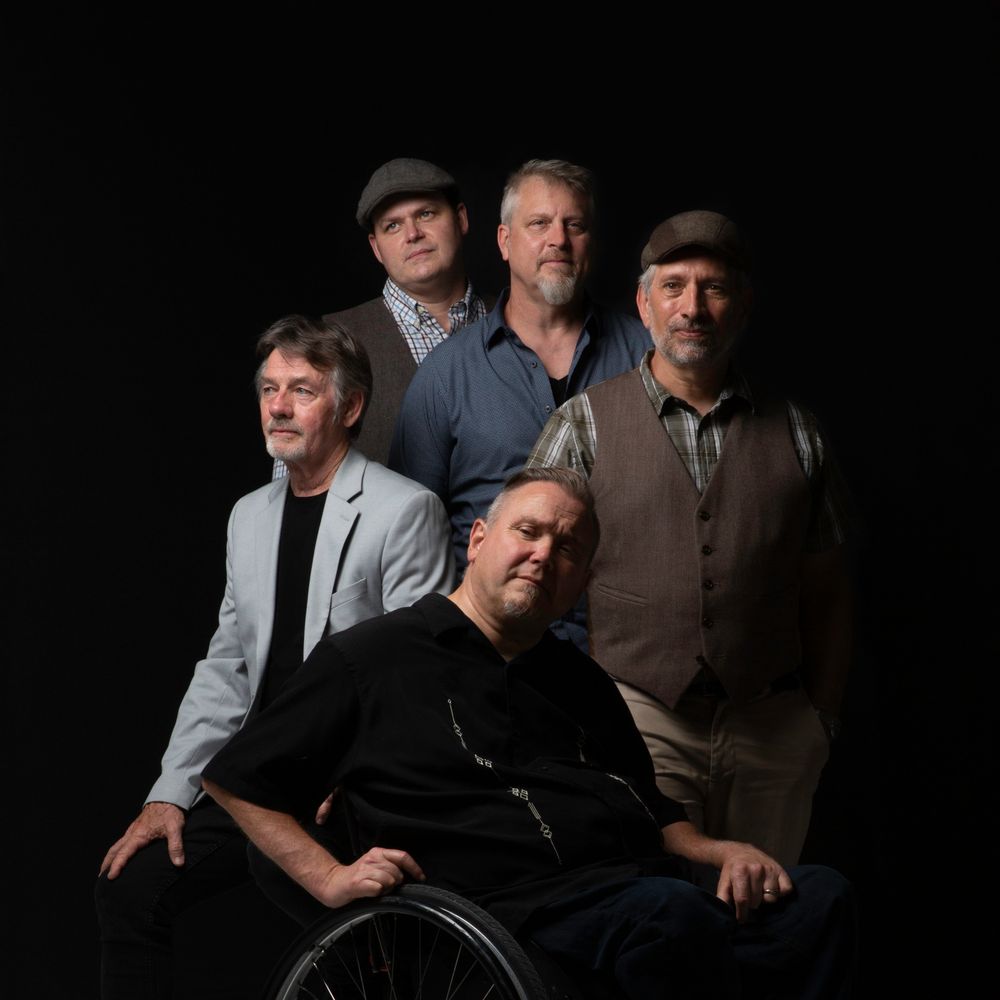 About the band
Durham County Poets grew out of the lively music scene in Ormstown, QC, once called Durham. The five seasoned musicians, all of whom are also songwriters, work together individually and collaboratively in composing their music. Delving into a variety of styles and genres, their musical influences include a broad range, woven together to create their own authentic style.
They have released 4 indie albums in 10 years with their latest-almost-all-blues effort receiving a JUNO nomination, followed by 2 Maple Blues nominations and a Canadian Folk Music Awards nomination for Kevin. In fact, the band was all set to travel to Saskatoon in March 2020 to participate in JUNO Festival week (and back up Dawn Tyler Watson), when the awards were cancelled, and a new reality kicked in: being virtual. This the band embraced, their first 'online gig' seen by thousands, courtesy of Ottawa's National Arts Centre.
The obvious joie-de-vivre they express in performance is reflected in the good-time feel the band creates, captivating audiences consistently with their tight grooves and seemingly effortless performances, laced with Kevin's own funny observations of life. As Nate Dow from the Fallout Shelter in Massachusetts said "Lead singer Kevin Harvey and his band are sonic shape shifters of the first order. Whether it's blues, folk, soul, country, gospel, or New Orleans swing, they purvey it with skill, aplomb and pure honesty."
Touring to date has taken them to the Ottawa Blues, Rochester Jazz, Montreal Folk, Deep Roots Nova Scotia Festivals, and Wintergrass Seattle, Port-Credit's Southside Shuffle and the Pop-up 'Superfolk' in Morin Heights QC.
"You'll be guaranteed to have so much fun; you'll forget how good they are." Democrat and Chronicle, (Rochester, NY) 
Durham County Poets est né de la scène musicale animée d'Ormstown, au Québec, une ville qui s'appelait autrefois Durham. Les cinq musiciens/auteurs-compositeurs chevronnés travaillent individuellement et en collaboration pour composer leur musique. Plongeant dans une variété de styles et de genres, leurs influences musicales incluent un large éventail d'artistes duquel ils ont réussi à allier le tout pour créer leur propre style musical.
Ils ont sorti 4 albums indépendants en 10 ans et leur dernier album presque entièrement blues a reçu une nomination aux JUNO, suivi de 2 nominations aux Maple Blues et d'une nomination aux Canadian Folk Music Awards pour Kevin. En mars 2020, le groupe était prêt à se rendre à Saskatoon pour participer au Festival JUNO (et jouer avec Dawn Tyler Watson), lorsque les prix ont été annulés et qu'une nouvelle réalité a fait son apparition : les prestations virtuelles. C'est cette réalité que le groupe a adoptée, leur premier « concert en ligne » a été vu par des milliers de personnes, gracieuseté du Centre national des Arts d'Ottawa.
La joie de vivre évidente qu'ils expriment dans leurs performances se reflète dans la sensation de bien-être que le groupe crée, captivant son public avec ses grooves solide et leurs performances qui semble sans effort, le tout entremêlé des observations amusantes de Kevin sur la vie.
Comme l'a dit Nate Dow du Fallout Shelter dans le Massachusetts : « Le chanteur Kevin Harvey et son groupe sont des métamorphes soniques de premier ordre. Qu'il s'agisse de blues, de folk, de soul, de country, de gospel ou de swing Nouvelle-Orléans, ils le transmettent avec talent, aplomb et pure honnêteté. »(tr)
Les tournées à ce jour les ont emmenés aux festivals Ottawa Blues, Rochester Jazz, Montreal Folk, Deep Roots en Nouvelle Écosse, Wintergrass à Seattle, Southside Shuffle de Port-Credit et le Pop-up 'Superfolk' à Morin Heights QC.
«Laissez-vous emporter par la musique et les paroles des poètes du comté de Durham et partez sur la route du blues.. » - Pierre Lamontagne, Blues Montréal